Had another touristy weekend this weekend.
But before I get into that, some of you (read: Liz) probably want a report on the Bikram class. This is what happened: since their website said Sunday's class is at 8am, I woke up bright and early (by Amsterdam standards) and headed over to the studio. I remember thinking on the walk there "Whoa. This place is DEAD, and it's already 7.30am."
You mustn't forget I've moved here from Sydney. By 7.30am, Bondi Beach is filled with surfer boys and there's already a 15-minute wait to get coffee at Gusto's on Hall Road. People are walking their dogs; families are feeding their babies breakfast by the beach. It's an early-morning kinda vibe in Sydney.
Amsterdam's quite the opposite. It's probably just too cold to get outta bed at this time of year (let's see if it's different come Summer!). And to make that point completely so I couldn't be mistaken about Amsterdammers (is that even a word?)... The studio door was locked when I got there and the brochures with an updated schedule outside said Sunday's first class is now at 9am.
Pfffffffffffft! (Now I'm beginning to understand why early morning Mysore classes probably don't work here).
So that was it. I made the trek all the way back to my Beige Heaven again. And practiced a hodge-podge mix of Primary & Intermediate. If you really must know, I got up to Janu A, then decided it was time for more backbends so I, er... skipped ahead to Intermediate. Come to think of it, I actually even skipped Pasasana and Krounchasana and went straight to Salabhasana. Probably coz I was looking forward to all those glorious heart openers in the heated Bikram room and now that I was stuck with Ashtanga, I didn't have the patience to get through ALL of Primary first. Uh-oh. See how practicing without a teacher's eagle-eye can easily derail me?
Anyways, tomorrow being an Ashtanga moon day, I think I'll try their Bikram 6.30am class before work (YES! They actually have early morning classes on weekdays!)
OK, enough with the yogayogayoga... Now for more fun sightseeing pictures.
On my way to the Rijksmuseum, I spotted this AWFUL, AWFUL, AWFUL idea of a fast-food joint. It's like a vending machine with all kinds of deep fried hotdogs and burgers of the mystery meat variety. Seriously. (The kitchen is behind the cubby holes of food).
On the other hand, while queuing up to get into the Rijksmuseum (as advised by my Timeout book, I went later, around 11.30am so the queue wasn't THAT long. Only a 20-minute wait to get in)... Here's this enterprising guy serving cappucinos in the back of his truck by the queue. I like that he's even got a chandelier hanging to try and make the back of his truck a little... er... classier.
The majority of the Rijks is STILL undergoing renovation, and they've only got a small section of the place open. It's really cleverly curated around the history of The Netherlands through its art. So, this ranged from subject matter of the painting (eg. Portraits of the important people who had helped shape Dutch history during its Golden Age), to culture of the people at the time (eg. through doll-houses made to scale that actually existed from the 1600s, you could see what their interiors looked like, how people lived and dressed, etc.)
I dunno about you, but history BORES me. With the way the Rijksmuseum used artworks from paintings to sculptures to doll houses to porcelain (all actual artifacts) to recount Dutch history, I was pretty fascinated. Plus, it helps to spend that extra 5 Euros on the Self-service guided tour to get more info too. HAHA.
I really went there to check out the Rembrandt pieces.
I'm more of a contemporary art "appreciater", I really don't get any of these Renaissance/ Baroque artworks. I don't "get" the aesthetics of it, and maybe also coz in terms of subject matter they're either boring portraits (er... exhibit A & B above), or are really heavy on the religious symbolisms and massive guilt tripping. I certainly appreciate the skill and level of artistry it takes to craft a piece like that, but seriously... Gimme
Banksy
any day. Witty, clever and current.
BUT... there's something about Rembrandt's "Syndics of the Clothmakers' Guild" that draws me in. It could just simply be that I had to study this damn piece so long and hard for Art History class in years gone by. HAHA.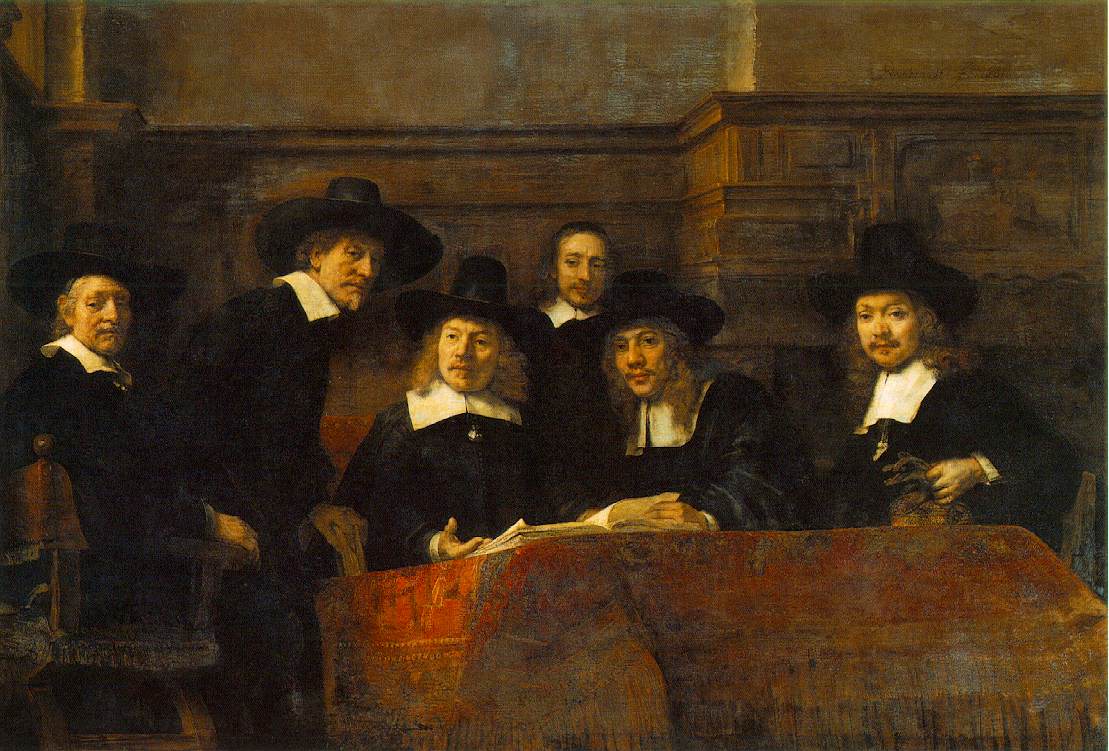 They had some of Vermeer's work too. (They didn't have "Girl with the Pearl Earring" on display though, maybe some other museum has it)
By now, I was starting to feel a bit of "museum fatigue", but since the Van Gogh Museum is around the corner and he has been one of my all-time favourite Impressionists, I felt I just HAD to go.
Bad idea. By this time, I'd been looking at so many bleak, oppressive and dark paintings at the Rijks already... so when I got to Van Gogh, and you know of his bleak and depressing life story (that ended in suicide)... My head was just about ready to explode and I was ready to yell out "WHY DID LIFE HAVE TO BE SO DREARY AND DEPRESSING FOR THESE PEOPLE?!" ...I mean, look at Vermeer's Milk maid above! Why did these people feel compelled to paint about how hard life was for peasants?!?
...I think I watch too much of "The Tudors", where everything's lush and guilded Although a large part of it is kinda dark and depressing too (OK OK, different century, different country, but similar for its olden days vibe)... But you get reminded that back in the day, the majority of people really got nailed badly. And no one in those paintings is as beautiful as Jonathan Rhys-Meyer, come to think of it.
(Take THAT, Rembrandt! See how he doesn't have a bulbous nose like all the people in your portraits?)
They had a Special Exhibition of Paul Gauguin's work as well (who was a close mate of Van Gogh's), but his work never really did anything for me. And still doesn't. But by now, I was severely museum-fatigue-ing.
I found it a really funny contrast that right outside these 2 museums, there's an entire wall of posters, of the "Only in Amsterdam" variety...
See why I was too spent to write about this yesterday? HAHA.
Today, I thought I'd take my day a little easier and hop on a Canal cruise. Brilliant idea.
You can also rent "Canal bikes", like these goons did. I dunno who in their right minds would do this and peddle around the canals at the tail-end of Winter. They must be drunk, or stoned. Or both.
Apparently all these Dutch houses are built with their facades slightly angled forward. This makes them appear bigger, and it also helped back in the day when people would hoist goods from the boats in the canals up to the top (a lot of them were used as warehouses). This explains why most of these houses have hooks right at the top - to act as pulleys. People still move house this way - moving furniture out through the window rather than using those tiny, steep little steps.
Apparently the entrance into the city's canals are guarded by a series of locks, like these ones. They're closed at night (!) and a few times a week, they use these gates to help flush fresh water from the ocean outside through all the canals. Very clever.
We passed by some of those house boats that I find so charming. Most of them look really ratty on the inside, but a few were done up really nicely (with chandeliers even!)
Check out these other pair of goons fishing... right in the middle of the Amstel River! (It's like, only one of the more major waterways here... I wonder what they caught)
And then I got lost somewhere and ended up at the Flower Market, by pure chance. (They'll ship tulip bulbs to anywhere in the world!)
Of course, since this is Amsterdam, what's a Flower Market without the... er... peripheral type of plants?
And now, it's way past my bedtime. Hope you had a good weekend too!