Sharath makes me drop to my knees. HAHAHAHA! That just sounds so wrong.
But it's happened TWICE now. Actually, three times. Basically, after 3 weeks of being here, I've figured that my practice for this trip is completely about my backbends. Yup, I practice the full Primary series for up to about an hour in order to get to the fucking blasted asana known as Urdvha Dhanurasana.
It's not just about the backbend. I'm talking about standing up from a backbend from the floor. My focus in all of this week's self-practice has been to stand up from the last Urdvha Dhanurasana from the floor again. Because I'd been so out of practice before arriving in Mysore, I'd initially just been doing a regular set of 3 backbends before going into dropbacks. 3 weeks ago, that was enough to completely wipe me out. It felt pretty much like starting from scratch again!
3 weeks later, it feels like more strength and opening is taking place in the spine somewhere. And only in the last week have I felt ready to push myself a little bit more. So I've been doing 1 set of 3 UD's, coming down and resting for a bit, then going up to another set of 2 or 3 more UD's, walking my hands in closer every time, before attempting to stand back up from it once I feel like the back is open enough. It's starting to feel like I'm creating a bit of space between each vertabra (or at least this is what I'm telling myself to imagine as I'm in the backbend). Since the start of this week, I've been trying to haul myself up to standing after the last backbend.
Maybe this is the problem. "Do or don't Do. There is no TRY."
HAHAHAHAHAHAHA. Sorry for quoting Star Wars. But I should just get out of my head and DO it. Not TRY. Everyone I've spoken to about my issue is perplexed since I can dropback and stand back up from it, so what's the problem with doing it from the floor? (Yes, here in Mysore, there is lots of time for deconstructing-asana talk). They think it's all in my head. But I think my back just isn't warmed up or open enough to do it from the floor just like that. I'm pretty sure that if I'd also done all the 2nd series backbends before getting to Urdvha Dhanurasana, I wouldn't be having this problem.
Anyways, when I attempted this initially, my body had ZERO recollection of having ever done this before. This was a little scary and disconcerting. But by yesterday's practice, I was hauling myself up onto my knees. OK, still not fully standing yet, but at least it's a start. I just need to ground my legs completely. And get my hands even closer to my feet coz my centre of gravity's just too far away at the moment.
ANYWAYS... Sorry to get all boringly mechanical about my backbend process. So then I get to dropbacks. I've been doing OK with them, dropping back and standing back up again.
Except... some time at the start of this week, Sharath decides to walk right up to my mat for assisted dropbacks (or Tiryang Mukha Uttanasana as I'm told it should be called, not Chakrabandasana) just as I'm about to do my last dropback. I told him "One more". He says "OK". And now I'm all nervous and sweaty that he's stood RIGHT THERE. I dropback OK, but when I'm coming back up again, I fall right to my knees (!!!!!! ?!?!?????) and he shakes his head and goes "Oh no no no..."
Sad panda.
I told him "Scared of YOU!" ...and he laughs.
Guess what happened yesterday? ...The same EXACT thing happened. He came close by on the last dropback, and again he made me so nervous, I collapsed in a heap at the top of my mat when standing back up again. This time, I laughed out loud and so did he. WTF is my problem?! I was so annoyed I wanted to do it one more time, but again I was afraid to open my mouth to say it.
I'm not sure if I'm imagining this or if he's catching onto my fear of him. In the last led class, he was right by my mat for Ubhaya Padangusthasana. So we're all in Halasana, catching our toes and about to roll up to it, and he says something like "Catch your toes. Straight legs up." ...All I hear is "Straight legs up" and what do I proceed to do?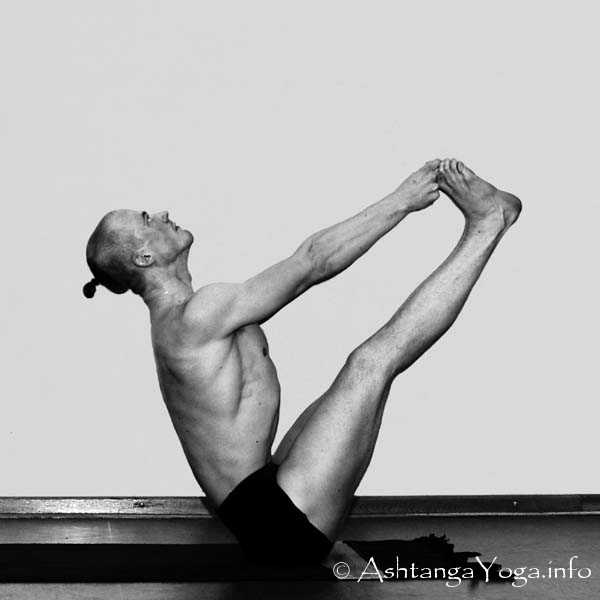 Because he's standing right in front of my mat as I'm rolling up, I completely freak out, bend my knees and crash to the floor. He lets out a grunt of disapproval. A GRUNT!!!
ARGHHHHHHHH!!! (I don't usually have a problem with this pose, which made it even doubly sucky for me). UGHHHHH.
In this morning's led class, Sharath just so happened to be in front of my mat AGAIN when we got to Ubhaya Padangusthasana. Hmmmm... Fancy that. Good thing I didn't notice it until I was already rolling up and looking up to the ceiling, so I didn't flake out and drop it yet again. P.H.E.W.! (But he did try to make me get my feet closer together when I was already up in Setu Bandhasana and I almost tipped over to the side, causing more laughs!)
I'm not sure where I was going with this post again. I was gonna finally write that post on COWS (with lots more pictures), but look what happened. I guess I just had to get that boring practice observation off my chest. JUST DO IT ALREADY, DAMMIT!! STAND UP FROM THE FLOOR!!!
I'll leave you now with something a little less depressing than my frustrating state of backbends... FOOOOOOOOOD SHOTS!!
Here's something "new" I've discovered at Nalpak. It's called "Shavige Bath", but pronounced "Shao Gay Bhat". It's rice vermicelli noodles fried with lentils, green chilli and curry leaves and they only serve it for breakfast on some days. It's kinda sorta similar (not really) to a "fried bee hoon" dish we have in Singapore. It came with a Raita of some sort but I swopped it for coconut chutney instead. Yum!
This morning, I went there looking for the same thing, but it was a different special that was on. Something called "Bisibele Bath" (the dude pronounced it so quickly with his heavy accent I had no idea what he was saying and had to look it up on the menu. Like "shao gay bhat", it's pronounced nothing like how it is written). This is the weirdest thing to have for breakfast. It's almost like baby food... a savoury rice porridge with er... I think it's tumeric and tomato and it's also spicy and looks like vomit. I don't think I'll be ordering this again any time soon. Those crunchy bits to sprinkle on top were delicious though.
Yesterday, we went to RRR for yet more Thali. At this place, they lay out banana leaves as your plates and come round and scoop up whatever dishes they've got onto your leaf-plate. You can keep asking them for more. They kept bringing more even though we didn't ask for anymore. We were rolling ourselves home by the end of lunch.
-----