I was given the long-awaited Pasasana today. The first pose of the Intermediate Series in Ashtanga Yoga.
(Photo Credit
here
)
So now, I officially declare all of you ashtangis practising the Advanced Series (in the shala, at home, as part of Ashtanga or Ashtanga Vinyasa Krama™... ie. Advanced Series in whatever shape or form) the new cool kids in town.
I had to plod through the ENTIRE full primary series and get to the end before I got this. Well of course! What was I thinking, that I'd start off the practice by going straight into Pasasana?!
Oh boy. Ashtanga is HARD. And it doesn't get magically easier when you move along. I was so deluding myself by thinking the heavens would open and rain down angels to make my life easier!
Halfway through Primary today, I caught myself thinking... OMG. I have an ENTIRE new series to learn. FAAAAAAARK. What have I got myself into now?! It just seemed... very DAUNTING. As
Mel
so eloquently put it the other day, I get to do all the "weird s**t" now! Well, not NOW-NOW or in the forseeable future... but at some point I'll get to do that WEIRD SHIT. Er... Yay.
But first... I am working on my one measly new pose right at the end of Setu Bandhasana.
Being Asian, well, specifically CHINESE... it's easy for me to get my heels flat on the floor. Hey, my ancestors were all coolies who squatted to do everything (yes, EVERYTHING)... so the ability to do a full squat with heels on the ground is in my genes. (In fact, I've even seen the modern equivalent back home in Singapore squatting with heels flat on top of a bus stop bench. He could have SAT DOWN on the bench like a normal person, but no. He had to squat on top of it. Yes, he looked like he was perched like a bird. It was so... uncivilized. And ridiculously funny at the same time.)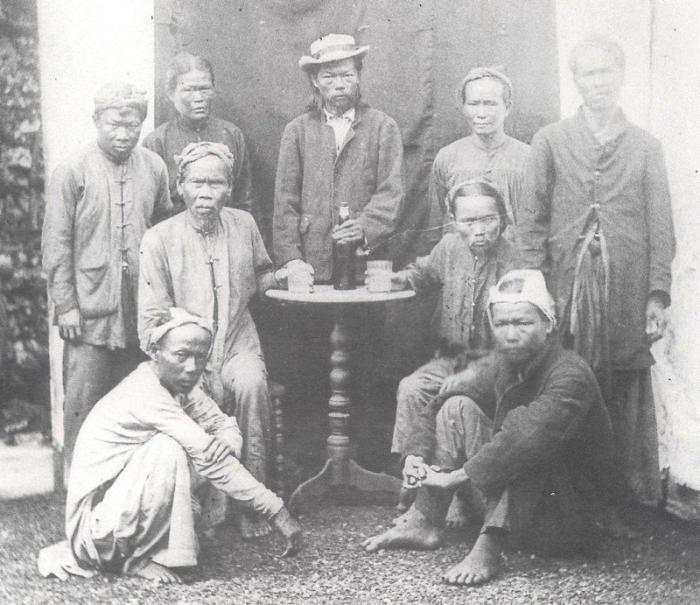 (Photo Credit
here
. See Exhibit A above on camera-left. WHY is the dude squatting?! ...Because he can. Nyah nyah!)
But still... as easily as squatting comes for me... squatting with heels flat WHILE doing a twist AND bind... that kinda messes with your head a bit. It's balance and for me at least, quite a bit of core to prevent yourself from rolling backwards.
Good thing Teacher was there to anchor me at the back, and I got a pretty good, deep twist on the first side (the left side). So deep that I surprised myself by being able to catch my wrist on the first try! And MY GOODNESS! With Teacher there to assist and keep twisting me further with each exhale, I could see everything happening behind me and to the right! (See how the chick in the top picture is twisting to her left? Imagine her twisting more so she could see even more behind her to the right. That's what it felt like.)
It felt open and expansive, and it felt good. :)
On the other side, it didn't feel as open and deep. I'm not sure if I caught my wrist on this side as well, I think I did, but I was busy concentrating on getting that twist coz it felt more like a struggle on this side, and I couldn't quite twist as far back.
It's kinda weird coz in Marichyasana D, this twist to the right is usually my easier/ more open side but somehow I wasn't able to find it in Pasasana on this side.
At the end of it, I said "Backbends?" and Teacher nodded. So that's as far as I got today. HAHAHA.
At the end of class when I waved goodbye to her, she nodded and winked at me and said something along the lines of "it comes easily for you..." or something like that. I'm not sure what she said but I HOPE that's what it was. Hehe.
So there you go. That's IT. Nothing as life-changing as I'd imagined it to be. It just feels like a slightly longer Primary session. Er... because it is, at the moment.
And life keeps going.