I've died and gone to heaven.
Couldn't stop patting myself on the back for an EXTREMELY delicious dinner last night. And then I had to remind myself that it's not even my recipe, someone else created it and deserves the credit! Do yourself a favour and try this dish out coz it's so yummy (and did I forget to mention healthy too? Not a drop of oil in this!)
The original recipe was "Sunflower Bean Burgers" - sunflower seeds and pinto beans instead, but I don't like pinto and didn't have sunflower seeds so did a bit of improvising (this is why I much prefer cooking to baking - where every single bloody measurement has to be so damn precise, down to the equipment you use like whisks and sieves!)
Being the amateur chef I am, of course I don't own a food processor, not even a hand mixer... heck I don't even own one of those things my Grandma used to grind chilli in manually - what do you call it? This: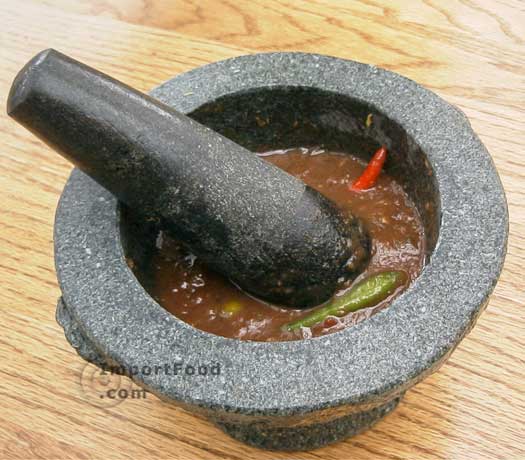 So in order to "grind" the almonds, I put them into a ziplock bag and used the biggest, heaviest casserole dish I have and used that to bash them up. In case you need the Idiot's Guide to Cooking like me, the corner edge of a square or rectangular casserole dish gives you the most leverage for better bashing pressure. If any neighbours had been watching, they would've thought I was mad. It's kinda cool that I wasn't able to grind them into fine bits like the machines do, coz the almond chunks actually give better texture later when you bite into the burger.
SUNFLOWER BEAN/ CHICKPEA ALMOND VEGGIE BURGERS:
1 Cup Steamed Mashed Veggies (Broccoli or Cauliflower work well. I used a mixture of both)
1 Cup Mashed Beans (I used Chickpeas)
1/2 cup Ground Sunflower Seeds (I used Almonds)
1/2-3/4 Cup Flour - Amaranth or Bean (I used Brown Rice Flour)
1/2 Cup Chopped Onion
1 tsp. Garlic Powder
1 tsp. Rosemary
1/2 tsp. Oregano
1/4 tsp. Chilli Powder.
2 Tbsp. Braggs (I have no idea what this is, so I used Tamari instead. Don't use regular soy sauce if you're on the Candida Cleanse. Tamari's a much purer preparation with no yeast extract and other crap so that's OK. Just read the ingredient label. Of course.)
Mix it all together and then bake in oven at around 350F to 400F (180C - 200C). Leave them in until they get brown and crispy on the outside and hot all the way through the inside. They should still be mushy in the middle. Turn them once. It's about 10 - 15 minutes on each side as a rough guide.
They take a bit of time to make, but you can do a batch or two and freeze them, great to grab when you're in a hurry. It probably makes about 6 small - medium sized patties. I made the first one too big, so ended up with 5 patties of varying sizes.
In fact, they took longer than expected to make (it was grinding those almonds I tell you..) so I didn't feel like making another batch of Carob Tahini cookies afterwards.