Today, we were told that we'd be allowed to watch tomorrow's intermediate class. YAY! ...of course we'd have to sit at the back of the hall and not make a sound (wonder if I'll be allowed to take pictures?) Apparently they got up to the last pose before the 7 headstands yesterday, so maybe we'll be in for a treat with the full intermediate series tomorrow? *rub hands together in glee*
By the way, if anyone has any questions they'd like to ask Sharath in this evening's conference, put them in the comments! I've gotta have them by 5pm Sydney time (GMT +11hrs) TODAY! I'll only have the balls to ask ONE question so I might ask the most interesting one.
Got some nice updates and observations today, will put them in point form to TRY and be brief.
1. Pre-workshop chatter
A lady spoke about how Sharath's a lot stricter in Mysore. She first went there when Ashtanga was still pretty new to her, spent FIVE MONTHS there, but he wouldn't progress her past Marichyasana D. Not until she got the full bind first.
In the Sunday led classes in Mysore, she said people would be stopped during the Primary series if he felt they weren't ready to go further. Whereas during this workshop, it seems like he's letting everyone practise the full Primary even if they're not ready. He's a lot more playful and humourous during the Primary practice, but a lot more serious with the Intermediate "cool kids".
He not only stops people often, but also says stuff like "this is why you must come to Mysore". Awww... *Bitch Slap!* (I'm joking, of course.) I think it's pretty funny he says that. It definitely makes me want to go to Mysore... which I suppose is partly why he does these tours. Rockstars sell more records when they go on tour, but Sharath gets more people back to the source when he goes on tour. :)
2. Bhujapindasana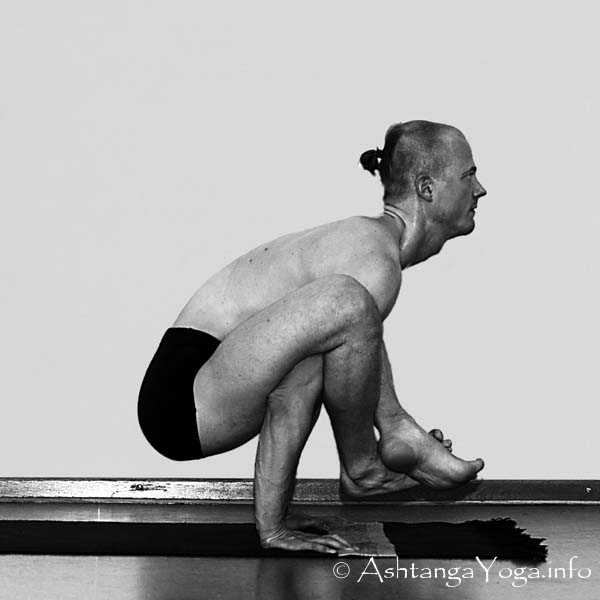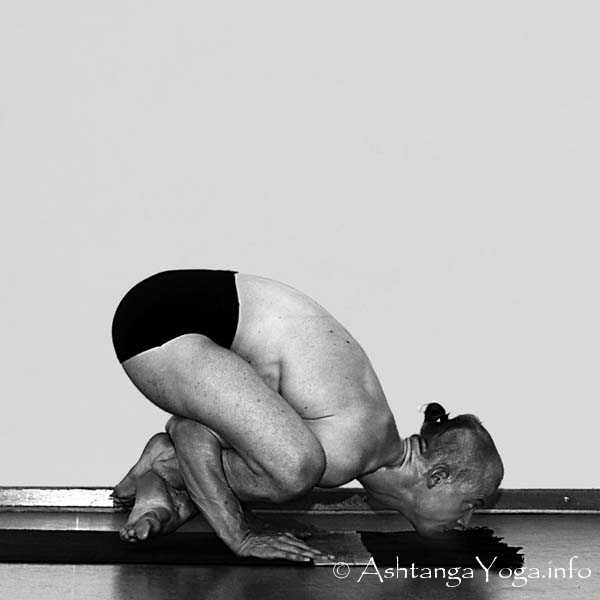 (Photo credit
here
)
Following on from yesterday's obsession and all the lovely comments and advice in the comments section... I was thinking A LOT about this yesterday. To the point where I kept replaying "youtube chick"s video and visualizing me jumping straight into it like her (and Liz), rather than fussing with it from standing. I was so excited, post-dinner last night I tried it in the living room - bare hardwood floor, no mat. And thought of Liz saying "no chickening out". So I went for it.
BAD IDEA!
Of course I knew it was a bad idea. I wasn't warmed up, I'd just eaten, and even something inside me said "Don't do it". But enthusiasm won over wisdom.
I landed straight on my bum, and now I've added a new fear to achieving this jump: it's not the elbows that are likely to break, but my wrists!! Fortunately, nothing broke, everything's still intact... but I think how I'll get to this jump now is through BABY STEPS.
My new thing with this now is jump feet forward and immediately from there hop up and cling thighs to arms. NO FUSSING. Just 2 steps: hop feet in front of hands, then hop thighs up. IT WORKED! So I'm hoping through this, I'll eventually build up the nerve to bring it from these 2 steps into 1 smooth jump. (Disclaimer: this is completely not an orthodox method, just my way of figuring this out)
What clicked for me was watching Liz's and "youtube chick"s (oh dear, I hope she never reads this, the term is not in the least meant to be disrespectful) hops... I always thought your thighs were supposed to be really high up your arms, but realize now they don't HAVE to be.
Bhuja's a pose that never really bothered me - from the get go, I'd found it pretty easy to get into the final asana so never really thought too hard about it (hope that doesn't sound arrogant. If it does, pls read about my Sirsasana struggles first before you judge me!) So it's kinda cool that I'm trying to take myself out of my comfort zone with this pose and see if I can take it to another level.
Also, I've got forehead on the floor now, I'm working my way to getting chin on floor. Today, I just got midway and squished my nose into the mat. Distance judgment FAIL.
3. Kukkutasana & Uthpluthi head position
Holy drishti! Very interesting adjustment from Sharath today. I was holding in Kukkutasana, looking down with drishti at my nose... he walks past, and gently puts a finger on my head and pushes back, tilting it back more. (I seem to have this problem - he's done this before with me in Upavishta last week, and again today verbally said "Head up" in Ubaya Padangusthasana)
Just because drishti's at the tip of your nose, I was always looking... well, DOWN, and I guess that meant my chin was tilted down too. (How was I supposed to know? Look at your nose - your nose is below your eyes, so I'd naturally tilt the head down!)
(Photo credit
here
)
So just a simple lift of the head (but still keeping eyes on the nose) made the pose feel kinda different. How different? I can't tell yet, but wait till I tell you about Uthpluthi.
So when we got to Uthpluthi, I got thinking: I wonder if I should try the same "chin up" head position? ...well, since Kukkutasana and Uthpluthi are almost kinda, sorta similar. Today, on an energetic level, Uthpluthi felt like a whole new different pose altogether for me.
Goodness knows why I kept looking down - maybe I was trying to engage jalandhara bandha. You see, this is when a little bit of knowledge is dangerous... I remember reading somewhere about how Guruji stopped people practising kapalabhati breathing in this pose coz many would get light-headed or not know how to control the kundalini energy generated in this, and somehow in some warped way I thought "I'd better engage jalandhara and keep the kundalini within". Oh dear. That sounds so daft now, but I'm glad I'm realizing better now. HAHA.
When I lifted the chin up (but still keeping nasagrai drishti), suddenly I felt an upward surge of energy. It wasn't like the pose became physically easier, but it FELT like I had a boost from under me shoot straight up. WOW. Pretty rad.
On average, I've held uthpluthi till between his 6th - 7th count (that's 8sec per count, sometimes much longer if he's being cheeky). Today I held till 7, and had to come down to rest for a bit before going back up again. So it's not like the pose became physically easier, but it became easier to concentrate on the hold itself than trying to shut out the monkey mind AND try to hold.
Interestingly, I was ultra mellow after today's Uthpluthi. Usually when it comes to the closing chant, I'm so out of breath and still panting that I can't even complete the first "Om" in the chant. Today, it was easy, breezy and felt exceptionally centred. WOW! WOW! WOW! What a difference just a simple tilt of the head makes.
After class, I asked Sharath where head position is in Uthpluthi, and he also confirmed - straight ahead. Drishti's at the nose, but head position is straight (that's chin up for me!)
I've talked too much today (I feel like I'm talking when I'm writing)... so I'll leave you now with a picture from the trenches... this is my huge-ass bruise from Garba Pindasana. It's about 2 days old now. I get them every now and again. When I first started getting arms through my lotus, the bruises started a lot higher nearer the shoulder. But now that I'm getting more of arms through, you can see it's come lower, nearer my elbow. (I dunno why this would be interesting, but it takes a yogadork to know one, and I would find this random picture interesting myself). :p