I finally watched Twilight: New Moon last Friday. And I have been avoiding writing a new post until I could get over my irritation with it or all you would've read would've been expletives. Sorry Twilight fans, you'd better go away and stop reading now.
Twilight irritates the shit outta me. Seriously. From the bad acting to the bad special effects to the horrible story arc (Sorry, what story arc...?) I mean, it seems like in 2 minutes someone can fall head over heels in love with another person to the point where she's willing to give up her life for him? And all this from only having shared ONE kiss? ...And then you realize she's only like what, SEVENTEEN?! Oh, and don't get me started on the "intensity" they share between each other coz it just looks like they're constipated throughout the entire film.
Don't get me wrong, I've watched Part 1 and went through the same dry-retching agony to the point where I just wanted to slap every single one of those stupid "tortured soul" actors. But I am compelled to keep watching, so I am every bit as MASOCHISTIC as that damned Bella Swan character coz I'm also irritated with myself for going back for more.
Yes, my irritation of this series extends to my irritation with MYSELF for this unbecoming, masochistic behaviour. Don't get me wrong. I love a good rom-com (ahem. That's "romantic comedy"). And I'm secretly happy whenever Kelly is away or is working weekends coz that means I can steal out to the movies and watch a silly chick flick that he would never want to watch.
But Twilight is different. It's definitely a chick flick, but it's no rom-com (HAHA, actually... maybe it COULD be defined as a rom-com since I was laughing quite a bit throughout the movie, even though it wasn't supposed to be funny of course).
Even after all of this complaining, I am still intrigued by the bloody cliffhanger at the end of Part 2 and I'm itching to find out what happens in Part 3. ARGHHHHHHHH!!! (Shoot me now, please!)
WHY do I do this to myself? ...I have no idea!!
It started off coz Edward Cullen aka RPatz is downright HAWT.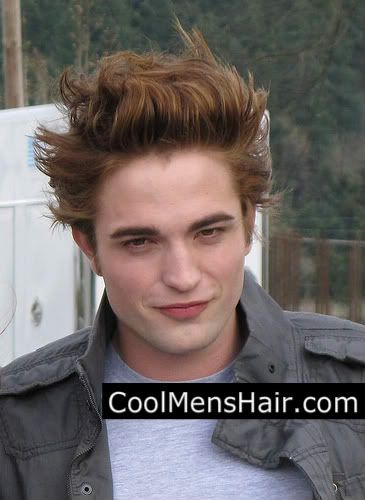 (Photo Credit
here
.) (There's a blog for "Hot Men's Hairstyles"?!)
Oh, and that werewolf boy looks much better with a haircut. And yes, of course he had to be topless for most of the film. Conan the Barbarian had a similar body and he too was topless throughout that movie.
(Photo Credit
here
) (I couldn't find him on the "Hot Men's Hairstyles" website, unfortunately)
AHA! So it's most probably just the eye-candy that keeps me going back for more. Even though I keep rolling my eyeballs at the screen every 5 minutes.
My main irritation actually lies with Bella - she just needs to grow a bloody spine and stop revolving her life around men. I mean... BOYS. I have never read the books so I've no idea if she was actually written to be more than a one-dimensional character which doesn't come through in the films.
As far as I'm concerned, The Oatmeal got it right when they christened her
"PANTS"
for being every bit as insipid as... a pair of pants, of course!
I reckon Bella just needs some yoga in her life. She needs to reconnect with her authentic Self and stop with her destructive behaviour (like falling for all the wrong types... y'know... Like vampires and werewolves). I suggest she does more Navasana and lots of other core strengthers to help her massive third chakra issues. Regain your power, chick!
OK, I'm stopping my rant here as I didn't even want to get into this in the first place!!
By the way, I got Krounchasana yesterday and I LOVE it! It's just that I never realized how far back your head needs to tilt on the inhale, before you exhale and bring your chin to shin on the extended leg. I seem to always have this problem where I think I'm looking UP high enough, but realize how much farther back my head needs to tilt only when I've been corrected. Hmm.
It's a much better problem to have than Bella's third chakra issue, I think. :)
(Photo credit
here
)